Patient Financing
We understand that dental expenses can be significant. That's why we're proud to offer 0% Patient Financing so that you can get the dental treatment you need, without financial constraints holding you back. 123Dentist Patient Financing, powered by LendCare, offers several financing options to fit all budgets. In partnership with you, our professionals will help you choose the payment method that best suits your life and goal.
Financing plans that make you smile.
123Dentist Patient Financing, powered by LendCare*, offers bite-sized 0% interest payment plan options to make looking your best more affordable. Take advantage of flexible financing options, which allow you to achieve your full potential now – and pay later.
* LendCare offers a fast and simplified financing experience. See legal notes at the bottom of the page.
Is your dental treatment or procedure not covered by insurance?
Apply online, on your time – any time!
Apply anytime and get your approval status quickly – 24/7.
Give yourself the luxury of paying over-time instead of all at once.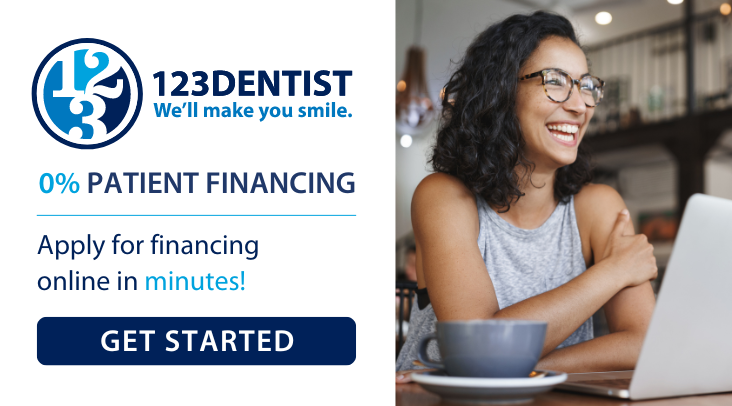 Apply for Bible Hill office:

Apply for Truro office:

Insurance
We invite you to contact your insurance company to find out the terms and conditions of coverage for eligible dental care under your policy, and if the dental care is covered by your insurance, we encourage you to have your policy information on hand when you come to the clinic. Whenever possible, we deal directly with your insurance company online in order to obtain an immediate response on your coverage and thus allow you, if necessary, to pay only the non-covered portion of the treatment you received.
But if the dental treatment you require is not covered, or only partly covered by your insurance, we're pleased to be able to offer you our 123Dentist Patient Financing, powered by LendCare – exclusively available only at participating dental clinics within our network.
Legal notes
*Financing provided by LendCare. Upon credit approval. Subject to the terms and conditions of the LendCare Agreement.
Request an Appointment or Ask Us a Question
Have a question about a dental service or your insurance coverage? Contact us at your preferred location and one of our friendly team members will be happy to help.
Your Mouth, Your Decisions!
Our job is to show you what we see in your mouth, educate you on your options, and let you make the best decision for yourself. We never push unnecessary treatments and always give you options.
New Patients are Always Welcome at our Practice!
Have a question about your smile? Curious if you are covered under your current dental insurance plan? Click on the button below to choose a location and contact us.